December 5th, 2017 by admin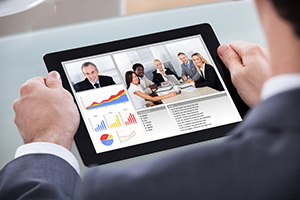 Most modern businesses already know the value of face-to-face communication over video calls. In the past though, this was only possible under significant limitations. You often needed the same equipment on both sides, could only use video conferencing rooms, and firewalls or technical difficulties often blocked the connection.
With our cloud video conferencing solution, it doesn't matter what devices or browsers are being used on each end – we can set up your cloud video conferencing solution to work seamlessly between the different systems. Just turn on your computer, conferencing room equipment, or smartphone and connect from anywhere, with anyone! And thanks to our Mobile Pathway Protocol, you don't need to worry about whether your system will connect to the network of another business. It eliminates technical difficulties by using open, safe, and secure standard firewall ports for your connection.
Now, you might be wondering – will I need to buy new video equipment to make this work? No! Cloud services can be integrated with your existing IT infrastructure and requires no initial investment. You pay a monthly fee to receive access to all features on any of your devices. Once you've connected to the internet, you can quickly video call anyone in or outside your organization. This will greatly improve your mobility and collaboration with customers, team members, and vendors – helping your business grow with faster and better-quality communication.
We offer a flexible video conferencing solution hosted by the cloud, to give your business that edge over the competition and personal touch when communicating.
Posted in: Solutions