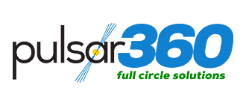 Cloud & Premise IP PBX
Pulsar360's robust offerings include an Enterprise system with advanced features and functionality including full Call Center capabilities. The hybrid architecture provides for a Premise IP PBX combined with Hosted stations for remote offices/worker. Cloud PBX "Lite" is the perfect replacement for SOHO and SMB key systems or business / Centrex lines. Virtual receptionist, voice mail to email, fax to email and call-answering mobility are just a few of the features.
Redundancy and Reliability
Multiple redundant servers in geographically dispersed data centers provide redundancy for all Cloud IP PBX instances
99.995% up-time reliability
Pulsar360 Hosted PBX Key Benefits
Lower CAPEX and OPEX because there is no need to own, purchase, install or maintain your own PBX core. Enjoy predictable monthly communications expenses and easily scale up or down based on your business needs.
Easily add stations or provide services to geographically- dispersed locations and/or telecommuters. Phone system change order charges are eliminated.
All users and locations are members of the same "virtual" IP-PBX, and regardless of size or the number of calls received, a busy tone is never returned to prospects or customers.
Disaster recovery options ensure you are always up and running.
End Point Diversity
We currently support 30+ SIP manufacturers and over 200 IP telephones with our End-Point Manager. No need to purchase new IP phones.
Soft Phone Flexibility improves productivity for mobile employees, as all features can be extended through the use of laptop-resident soft phones.
We support BLF/DSS Side Cars
Web-Based Management and Reporting
Web-based service management interfaces make certain tasks (e.g. moves, adds and changes, voice mail greeting changes, call forwarding treatments and destinations) easier for support staff and end users.
Unparalleled Experience
With our origins dating back to 2001, pulsar360 is one of the most established VoIP/digital phone service companies in North America.
Reliability from Redundancy
You get peace-of-mind with Pulsar360's unique redundancy, fail-over and disaster recovery solutions for networks of all sizes.
Superior Customer Service
Our customers receive the utmost in unparalleled Customer Support 24x7x365 via our service center and interactive service ticketing system.
Never miss a call thanks to multiple-device ringing capability. Combined with advanced call screening features, this allows critical calls to reach you.
Pulsar360, Inc. Feature Support Included in All Systems
Business Features
Flexible Time-Based Call Routing
Built-In Conference Bridge
Fax to E-mail
Hunt / sRing Groups
Music on Hold
Voicemail Blasting
Find Me / Follow Me Calling
Personal IVRs
Wake Up Calls
Support for Video Calling
Secure Communications (SRTP / TLS)
Announcements
Text to Speech
Calling Queues (ACD)
Interactive Voice Response (IVR)
Calling Features
Three-Way Calling Support
Voicemail
Voicemail to E-mail
Caller ID Support
Call Transfer
Call Recording
Do Not Disturb
Call Waiting
Call History / Call Detail Records
Call Event Logging
Speed Dials
Caller Blacklisting
Call Screening
Telephony Support
Open Standards Support for Multiple Protocols
SIP, IAX2
PRI, T1, E1, J1, R2, POTS / Analog, ISDN, GSM (Excludes PBXact UC 10
WebRTC
Softphone Support
Specialty Device Support
Door Phones
Overhead Paging
Strobe Alerts
Paging Gateways
Voice Gateways
Failover Devices
Desktop / Mobile Phone Support
Administration
Upgrade System with Granular Control
Bulk Import Utilities (Trunks, Extensions, Users, DIDs)
Localization in both GUI and Sound Files for Multiple Languages
Backup and Restore Utilities
Custom Destination
Administration
Web-based Config File Management when Needed
System Recording Management
GUI Controls for DNS, Network Settings, and More!
User Control Panel
Responsive GUI (Desktop, Tablet, and Mobile Device)
WebRTC Softphone
Call History (Details and Recording Playback / Download)
Contact Management
Presence Management
Conference Room Management
Settings Management

Find Me / Follow Me
Call Forwarding
Call Waiting
Do Not Disturb
Call Information

Voicemail

Visual Voicemail - Playback and Management
Notification Options
Greetings Management
Add-ons
The Base Platform includes a base of system enhanced features.
Additional functionality can be added as needed:
Call / Contact Center Features (Enhanced Call Center Functionality)
Third Party Phone Support (for Non-Sangoma IP Phones)
P360 PBX Hosting Datasheet
For more information about Pulsar360's Hosted Phone Systems please download the complete brochure: