May 16th, 2019 by admin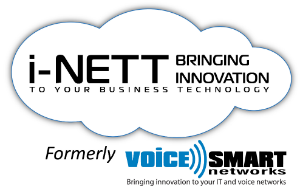 In an effort to have a name that better conveys ALL that we do, we have changed our name to i-NETT.
We started this company more than 37 years ago, offering business phone systems to businesses of every type and size. That is still a very large part of what we do today and will be for many years to come.
What you may not know, is that over the past 10 years our services have expanded far beyond just phones. As voice and data networks began to converge we began offering Managed IT Services and that side of our business has grown to include Cloud-based Phone Systems, IT Cloud Solutions, Cyber Security Services, SD-WAN Solutions, and much more, allowing us to become a true Managed Technology Service Provider (MTSP) who is fully equipped to be your Total Business Technology Partner.
Our commitment to you is that as the technology landscape evolves, we will continue to evolve to best serve you and your business technology needs.
In case you are wondering, this is just a name change, we have not been acquired by another company, we have not been sold or merged and we do not have new owners or new management. You can rest assured that the dedicated and knowledgeable team that has served you all these years is still in place and anxious to provide you an even greater range of technology services and solutions.
If you have any questions about our new name or our portfolio of Business Technology Services, we would love to hear from you!
Posted in: News